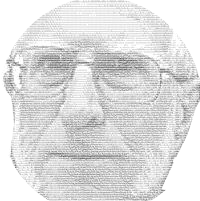 Sam Hallas' Website
Carbon Telephone Transmitters - 3: The Blake Transmitter (c 1878)
>
---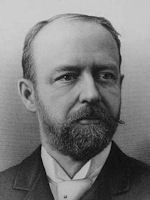 Francis Blake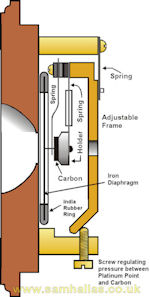 Fig 1. The The Blake Transmitter in section
In the first part we looked at Edison's use of carbon in a transmitter design. As it used a disc of carbon with a large area of contact it might be described as a bulk contact device. Following Hughes discovery of microphony, described in Part 2 development in carbon microphones turned to using a contact between a metal point and a block of carbon. There were a number of such point-contact designs, but one that found widespread use, due to its adoption by the Bell company, was the Blake transmitter. [click the images for a larger view]
Francis Blake (1850-1913) worked initially for the US Coastal Survey. Following marriage into a wealthy family he was able to devote all his time to invention. He submitted his design for an improved carbon transmitter to the Bell Company who had been desperately trying to devise one that improved on the Edison design. Initially the Blake design was difficult to keep in adjustment for optimal performance. After some modifications by Bell employees Edmond Wilson and Emile Berliner the Blake transmitter performed to their satisfaction.
The main frame is of wood cut out in the centre to form a mouthpiece. Behind this is an iron diaphragm held in an India rubber ring for insulation and to damp any vibrations. A platinum contact is supported on a thin spring between the diaphragm and a block of carbon, which is mounted on metal supported on a second spring. The whole spring and contact assembly is attached to a spring mounted frame which can be adjusted by a screw. Vibrations of the diaphragm are passed to the platinum contact causing a varying pressure on the carbon block. In turn this varies the resistance between the contact and block causing a varying current to flow in the external circuit.
The Blake transmitter was adopted by the Bell Telephone Company which led to its widespread use. Preece comments, "though it is by no means the best, it works so efficiently that it holds its own with great pertinacity against all rivals. Its articulation for short distances is very good, but when used for long-distance its results are inferior to others."
In Britain the Blake was used for many years by the National Telephone Company.
In the following part we shall move on the next phase of development in carbon microphones – the granular transmitter.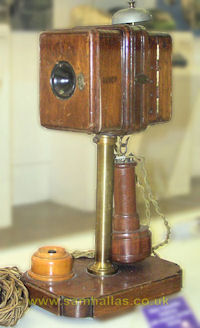 Fog 2. Telephone with Blake transmitter
References
Telephones: their construction and fitting, F.C. Allsop, E. & F.N. Spon, London, 1895
The Telephone, Sir William Preece & Julius Maeir, Whittaker, London 1891
Telephony, T.E. Herbert & W.S. Procter, Sir Isaac Pitman & Sons, London 1934
Francis Blake: Wikipedia
Berliner & Blake, Linley Wilson, Australian Historic Telephone Society Newsletter, October 2005, reproduced at Bob's old phones essay on Blake transmitter.
Sources
Fig 1 is redrawn SMH from diagram in Herbert & Procter.
Fig 2. Photo: taken in Amberley Working Museum © 2006 Sam Hallas
This article was published in the Telecommunications Heritage Journal Issue 75, Autumn 2011
---