The BT Museum Memorial Pages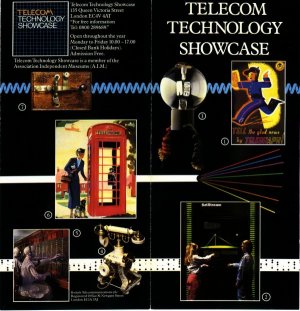 The British Telecom museum at Blackfriars (formerly the Telecom Technology Showcase) closed its doors to the public in August 1997. Here are some of the photographs I have taken of the exhibits over the years. Presented here in homage to the original museum. Click on the small images to see a larger version. Use your browser 'Back' button to return to the main page.
From June 2002 BT has opened it's new Connected Earth project which is a joint web resource with displays in museums around the country. As I visit the museums over the next few years, I will bring you pictures and news of where the various artefacts have got to. Go to the Museums and Partners Page to see which ones I've visited already.
My pictures are sorted into:
---
References:
Old Telephones, Andrew Emmerson, Shire Publications, ISBN 0 85263 781 0
The Story of the Telephone, Post Office Telecommunications
The Telephone and its Several Inventors, Lewis Coe, McFarlane, ISBN 0-7864-0138-9
Exhibits: British Telecom Collection
Photos: copyright Sam Hallas 1992-1997
Pages created 1 August 1998, modified 22 November 1999 & Feb 2007