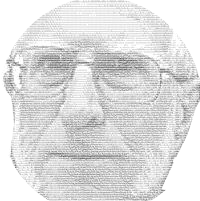 Sam Hallas' Website
Imperial College Operatic Society Tours
---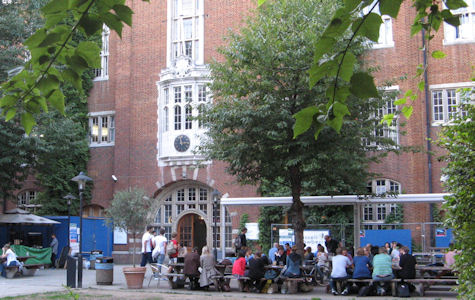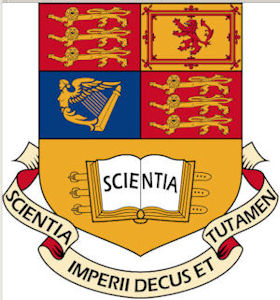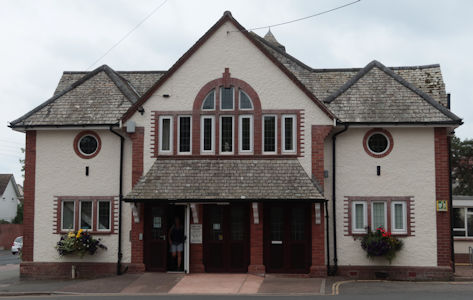 Pictures above: IC Union - SMH; IC Crest; Public Hall, Budleigh - SMH
Background
In the 1970s, although I had by then left Imperial College, I went for a few years with the Operatic Society on its annual 'tour' to Budleigh Salterton. I went along to assist the stage crew in creating the set and props. I also manned the box office on several nights.
On other pages
The Programmes
A collection of the programmes that I saved and some kindly lent by Roger Nicholls and several others. More Tapes
The tapes discovered more recently, along with a link to a video review with clips of the college production of Princess Ida in 1986.
Even More Tapes
Still coming out of the woodwork in 2022. Tapes from the College production of The Grand Duchess of Gerolstien by Offenbach from 1979. 50 Years on...
In 2022 to mark 50ish years on from the ICOS Budleigh Tours of the late 1960s to early 1980s, a group of alumni organised a reunion back in the Public Hall at Budleigh Salterton. There was socialising, food and drink and, of course, some singing - and how! Early Videos
Martin Taylor has shared a number of videos from the early period of ICOS and requested that I make them available. Camcorders and video recorders from the period were mainly based on magnetic tape with formats such as VHS. If the recording had to be copied from one medium to another the quality always suffered. So don't expect broadcast standard video.
Sound recording
Another task I undertook was to record the performances for later distribution to the cast on audio cassette. Now that I've been retired for some years I've had opportunity to unearth the original tapes, which were recorded on my trusty Brenell at 7½ ips or later on the Uher Report Stereo. I can't recall the details of all the equipment used, but I believe I used a pair of AKG dynamic microphone belonging to the Dramatic Society. Some of the recordings used a Dolby 'B' noise reduction system for reel-to-reel tape built from a design in Wireless World. The Public Hall at Budleigh Salterton had an antiquated emergency lighting system which caused me problems by creating electrical interference.
Listening to the tapes some forty years on, I found the quality still satisfactory. I thought I would share them with the world and any alumni who might have taken part in the performances.
Renewed contact and more tapes
Roger Woodward contacted me in 2016, after he spotted this page on the net. He is still singing with the Imperial Male Voice Choir (IMVC) which has grown out of the group of alumni who sang with Opsoc in the 1970s. Roger passed the word around in order to share the recordings. As a result, Roger Nicholls got in touch with me and offered to lend me some more tapes and programmes from the same period. He passed these to me at a concert in Hitchin by IMVC in November 2016. There were several from productions at College and some that were copies of my originals. One of them was of the College production of Utopia Ltd that I thought was lost.
The recordings from those tapes that were new to me are listed on the 'More Tapes' page
I've scanned all the programmes and you can find them on the Programmes Page.
Iolanthe cast 1978
"Up in the air, sky high"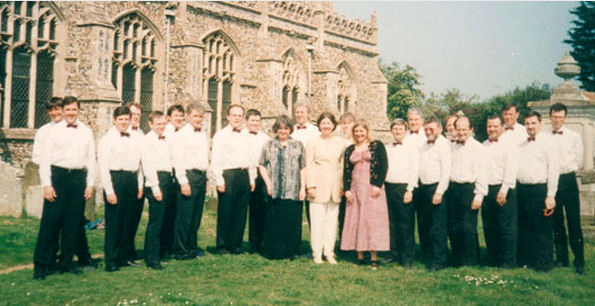 Originating from Imperial College, London, the Imperial Male Voice Choir is a friendly group of over 30 men who meet to rehearse, perform concerts for charity and occasionally enter singing festivals or tour overseas. We aim for a high standard of performance under the experienced direction of our Musical Director, Deborah Miles-Johnson and we have a varied repertoire including early Renaissance music, folk songs, operatic excerpts and arrangements of Gershwin.
The Recordings
How to play
Click the player controls to listen to the files. If your browser doesn't support HTML5 audio, then you can just click the link. To download them, right click (Ctrl-click on Mac) and choose 'Save audio as'. These are complete Acts or operettas. Beneath the player sliders are links to .ZIP files with the tracks separated out with a .MU3 playlist file. Where available, two playlist are provided, one with just songs, the other including dialogue.
Processing
The musical items have been normalised to make them use as much range of volume as possible, but I have not tinkered with the dynamics of the sound. Where it was recorded, I've processed the dialogue fairly agressively to improve it's audibility. I amplified and compressed the audio and applied noise reduction. The consequence is some increased background noise. Sorry, but there's no avoiding it.
If you download one or more files, kindly let me know by email so I shall know how useful they've been.
Trial by Jury and HMS Pinafore, 1974
I couldn't find a programme in my collection from this visit to Budleigh, but Roger Nicholls came to the rescue. I see that I was credited as 'Front of house' under my given name of Stuart and have gained an extra 's' on my surname. Pinafore programme I thought that doing two shows in one evening might daunt the audience's stamina, but the Budleigh public were up for it and we played to packed houses.I recall that I borrowed a dinner jacket from a fellow member of ICOS to wear when manning the box office. Of course that meant my footwear was not visible so the fact that the DJ was worn with sandals didn't matter.
Trial by Jury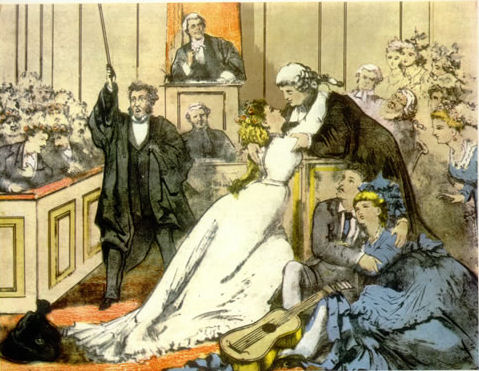 Trial by Jury file in .ZIP format
---
HMS Pinafore
For HMS pinafore I recorded the complete operetta, including dialogue. On later productions I confined myself to the musical numbers. The players below contain just the songs. If you want the dialogue as well, download the .ZIP files.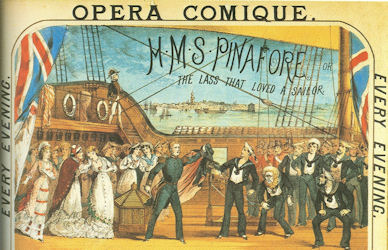 Act I
HMS Pinafore Act I file in .ZIP format

Act II
HMS Pinafore Act II file in .ZIP format
---
Patience or Bunthorne's Bride, 1975
Recorded over several performances from 30 July to 1 August. I have saved the programme and you can read or download it here. The tape of this show has not lasted as well as the others and suffers noticeably from drop out.
Produced by Ian Gledhill. Musical Director David Pollard. Patience was played by Teresa Quinn and Buthorne was played by Peter Mills.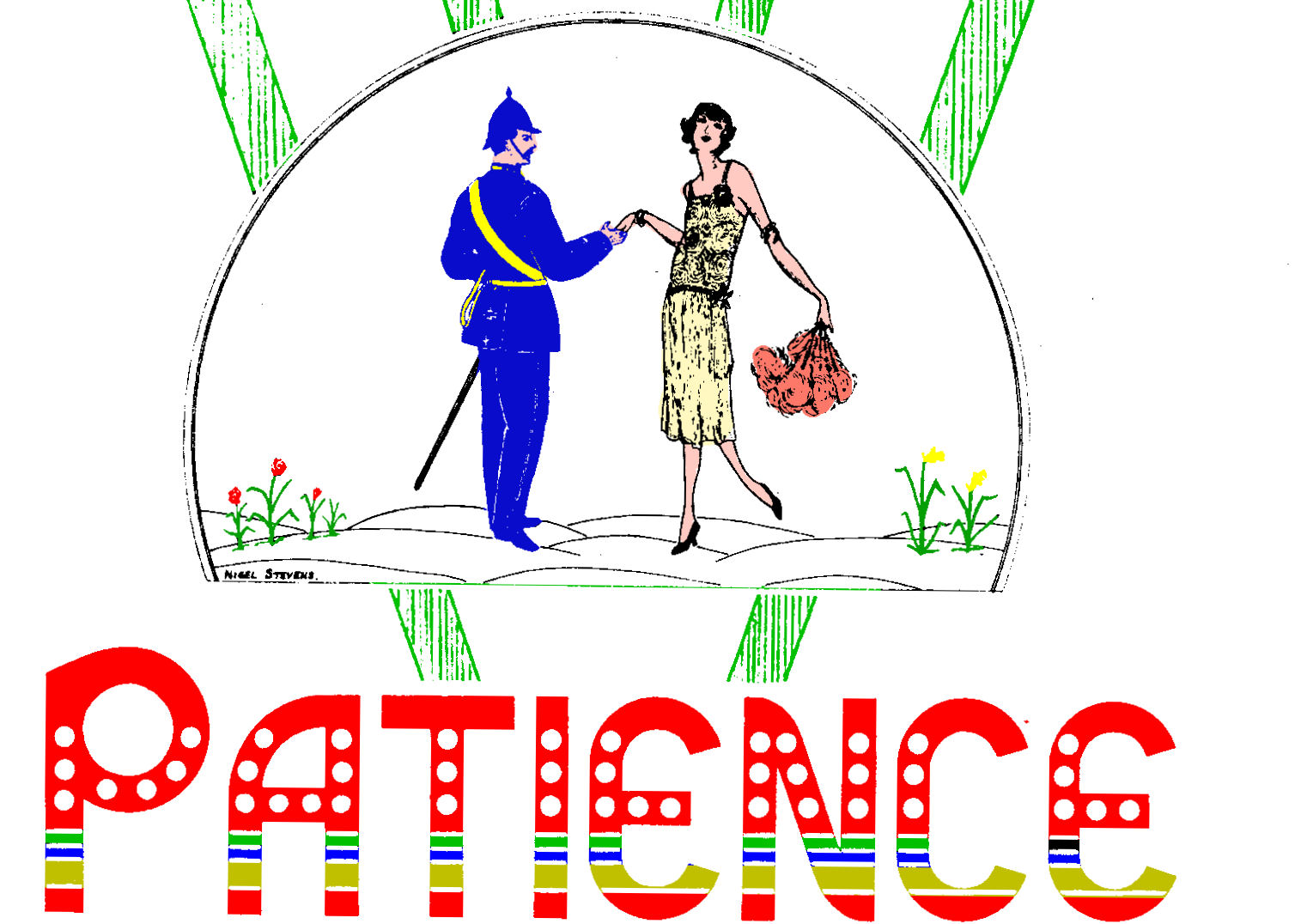 Act I
Patience Act I file .ZIP format 60 MB
Act II
Patience Act II file .ZIP format 26 MB
---
The Zoo and The Pirates of Penzance, 1976
I have also saved the Pirates programme and you can read or download it here. Both shows were recorded on the Uher Report 4400 IC, mainly on Thursday 5th August 1976.
The Zoo is one of Sullivan's forgotten works. Written with Bolton Rowe (a pseudonym of B.C. Stevenson), it was first seen in 1875 and was intended as a burlesque of grand opera. The plot is set in a zoological garden and is a tale of tangled love affair, a nobleman in disguise and wicked father. You may find this libretto, prepared by Ian Bond for St David's players, to be useful in following the action.
Richard Wilson played Carboy, Denise Clark played Eliza Smith, Roger Nicholls was Thomas Brown, Delith Brook was Laetitia and John Barrat the wicked Mr Grinder. The recording of The Zoo was stored on compact cassette so might not be up the same standard as those from reel-to-reel. [picture of the bear pit at London Zoo from a print by George Scharf, 1835]
The Zoo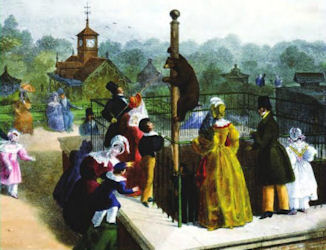 The Zoo file in .ZIP format 39.7 MB
---
The Pirates of Penzance
For some reason I was persuaded to appear as a 'Doctor of Divinity' in the finale to Act 1 of Pirates. On checking the tape in 2015 I find that I have recorded the complete operetta, including the dialogue so I added it to the transcription. The tracks below are just the musical numbers. If you want the dialogue as well, download the .ZIP files.
Produced by Peter Mills. Musical Director Michael Withers. Frederick was played by Max Taylor, Ruth by Deborah Kemp, David Pollard was the pirate King and Roger Woodward was Major-General Stanley.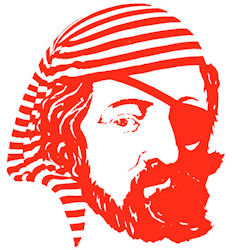 Act I
Pirates of Penzance Act 1 file in .ZIP format 73 MB
Act II
Pirates of Penzance Act 2 file .ZIP format 54 MB
---
Iolanthe, 1978
I don't appear to have gone on the 1977 tour. Might have been something to do with being newly married. I think perhaps it was a last minute decision to join the 1978 tour as my name doesn't appear in the programme.
I recorded the show on two nights, Friday and Saturday. I believed that, strangely, I never got round to editing and producing copies for the cast. I thought the tapes had just sat in my loft gathering dust. I finally started transferring the tapes in 2009 and completed the process in 2015. I suspected that if you had been on the tour, this would be the first chance of hearing your performance after 37 years, but see the More Tapes page for a recent discovery which added the dialogue. This recording is a compilation of the best of the two nights. The .ZIP files also contain the dialogue.
Wilf Judd was producer and Mike Withers was musical director. Roger Woodward played the Lord Chancellor. Deborah Johnson was queen of the fairies. Jane Capper played Iolanthe. Strephon was played by Stephen Chaytow, alternating with Richard Stockton and Phyllis by Sally Heslop, alternating with Bethan Howells. Because of the alternate casts there were two different programmes. I had retained only one, but thanks to Tim Frain I have the alternative programme as well now.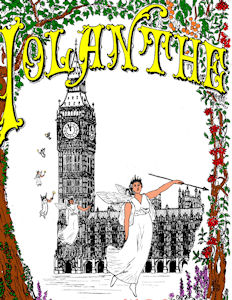 Act I
Iolanthe Act I file in .ZIP format 77 MB
Act II
Iolanthe Act II file in .ZIP format 66 MB
---
Next ICOS pages
More Tapes
Even More Tapes
The Programmes
50 Years on... The 2022 Reunion


---
Personal Index